Bleeds Explained – MAKE IT BLEEEED as designers and printers define it
Make it bleed!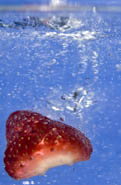 It's not as intimidating as it sounds really. It's just a funny word for something really simple. Since I have been working at a print shop for over two years, it has become apparent that many "designers" do not understand what a bleed is and why printers have to have it if you want it.
READ THIS SLOWLY: A bleed is the "extra" part of your art that is required if you want to art to extend to the edge of the paper.
Pictures are worth a thousand words and demonstrates a bleed on a business card. In the example below, you'll see three boxes. The outermost box labeled "BLEED LINE!" is the important one if we want our business card to have an element that goes all the way to the edge.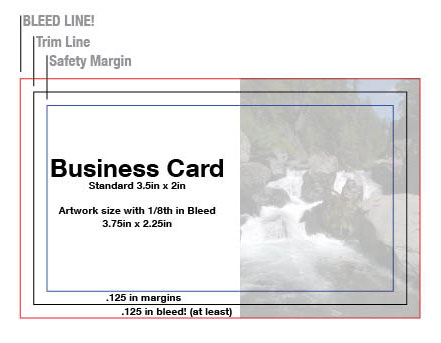 BLEED LINE! = Red line where your art elements must extend to in order to have room to "trim off"
Trim Line = Black line that is the size of the finished printed piece.

Safety Margin =

Automatic cutters are not perfect. Save yourself the trouble and leave all important elements (such as text) at least .125in from the edge of the trim line
So when you are designing artwork and have the intention to bleed, it is crucial that you start with the right size document. For this example of the business card, I could set it up in InDesign with the Document Size as 2 x 3.5in, margins at .125 all sides, and a bleed as .125 and it will look close to my example. If you are laying out a card in a different program that does not support bleeds, don't sweat it. Photoshop does not handle bleeds within it self like InDesign, but you can create a document that is full size with bleeds (3.75×2.25in) and drag markers to the trim and safety lines.
If your into videos and Photoshop and business cards and bleeds (like me) check out this tutorial for Photoshop business cards with bleeds
Why do bleeds tend to cost more?
As you can see it takes more paper and requires that it be trimmed at least four times (for every edge that bleeds). This translates into wasted paper and extra labor. Often times though, the price is very similar to non-bled artwork because of the automated systems that many printers now use. Some printers "gang run" large amounts of different jobs on big sheets to save money and then trim them out with a bleed automatically.
As always, I'd be glad to answer any print related concerns.
Free templates:
Photoshop Letter size with bleed
Illustrator/Indesign – Just set bleeds in Document Settings