Most UNDER-RATED feature of Photoshop CS5 – HUD Colorpicker
Painter has always been awesome for painting. One of the major drawbacks in the past for using Photoshop has been the lack of workflow for people using it for drawing or painting. CS5 is growing to attract more and more artists and painters.
FOR YEARS, I have wanted my "right-click" to have a color picker. I no longer have to want.
The secret key combo: SHIFT + ALT
This reveals: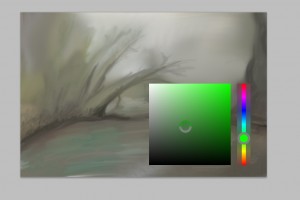 Oh and the second best? The MIXER BRUSH! Wow its so new and innovative! Or…wait…Corel has had this in Painter for years now. But I'll still be excited with Adobe like everyone else.
What I really want to see is the SDK for the 3d brushes ("Bristle Brushes") so I can make those funky brushes in my artist tackle-box. Someday, someday. CS6 will probably be truly dual-purpose (photo and artist) with full-fledged painter and illustrator interface and a blend of photography stuff that it was founded on.